Thrust Areas

1) Health Concern

Awareness:
1. We (Rotary Midtown Diabetic Clinic) arranged a special health awareness programme arranged for diabetic patients of Rajkot on 13th November, in association with Juvenile Diabetic Foundation. Lectures were given to Diabetic patients on health education, Foot care in diabetes and Diet awareness in diabetic patients at Arvindbhai Maniyar Auditorium from 9 AM to 2 PM by expert physicians, Dieticians and Diabetic Foot specialist Rtn. Dr Vibhakar Vachhrajani. This programme was specially organised for awareness and celebration of World Diabetes Day which is celebrated worldwide on 14th of November.

2. Diet education programme for diabetic patients was arranged on 27th November at Diabetic clinic by eminent Dietician Mrs Preeti Dave.

3. Talk by world famous Diabetologist Dr Suresh Mehtalia from Mumbai on Diabetes and lifestyle on 27th November.

4. Diabetic related health awareness bulletin. Diabetic clinic, a permanent project of our club - is publishing monthly bulletin, named "MADHU" for diabetic patients, where in information regarding diet, physical health concern, latest invention for diabetic related remedies, Recipe of diabetic food etc. is published.

Project implemented: 1. A Diabetic camp during the month.

Please find report in community service section below.
2) Public Image
Service and fellowship activity:
a. PP Vikram Sanghani was invited by All India Radio to talk on Rotary International, the centennial convention, Rotary Club of Rajkot Midtown and Rotary Midtown Dam. This talk was aired on 26th November from Rajkot station. The interview lasted for 20 minutes and PP Vikram highlighted Rotary's relentless dedication to community service.

b. On 4th November we had a gala New Year celebration meeting. Midtown Family met in a most congenial get-together & exchanged festival greetings.

c. 12th November was a very special day for us. "RED LETTER DAY". Our beloved DG Ashis and first lady Meera officially visited our club. DG Ashis & first lady Meera Roy spent the entire day with us. From morning 8.00 AM till 7.00 PM they continuously visited our various projects. DG kindly appreciated our endeavours.
The day started with a delicious breakfast at President Dr Animesh's home. At least 18 Rotarians got together and enjoyed the breakfast.
We started our day from meeting our one of the Interact club members at Maharani Laxmibai School. Interactors collected a large stock of medicines for our medicine bank. DG Ashis and first lady Meera accepted it from them. DG gave water bottles to all Interactors as a part of our Safe Drinking water Project.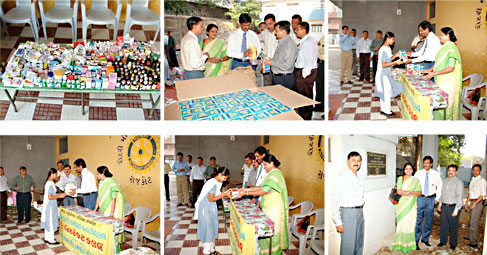 From Maharani Laxmibai School, DG visited our 3H project "Rotary Midtown Dam".

After their visit to Rotary Midtown Dam, DG visited our Rotary Midtown E-learning Centre at Rajkot's 150 year old Lang Library. Here he also inaugurated one of our safe drinking water projects for the library.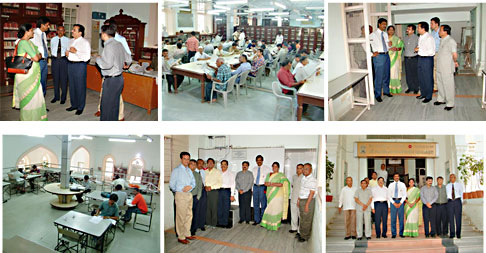 DG Ashis and first lady Meera Visited Rotary Dolls Museum after the Lang Library and Rotary Midtown E-learning centre. This was their first visit to this International Dolls museum. They were very impressed with the project and both of them enjoyed here. They appreciated the work and efforts of all Midtowners and project chairman PP Deepak Agrawal. They also saw Cinematheque, foreign language learning centre and children creativity centre.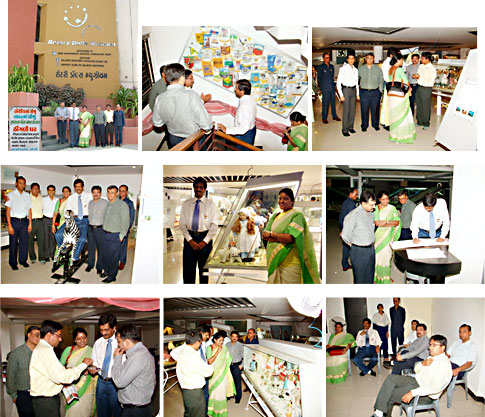 There was an excellent, interactive club assembly after lunch where DG Ashis emphasised on literacy and appreciated the plans of the year. AG Bhuvanesh also gave his feedback about the club.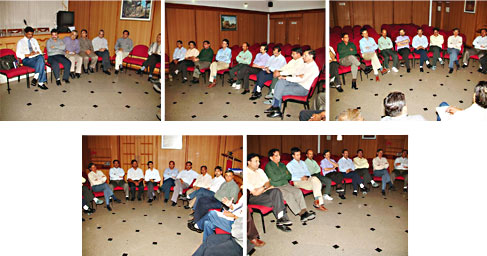 Soon after the assembly, DG visited our permanent vocational training centre for women "Swashray". He saw every class properly and talked to the students. He also gave good suggestions to improve our services.

Three sewing machines were given to the needy ladies at the hands of DG Ashis at Swashray as a part of our Micro credit project.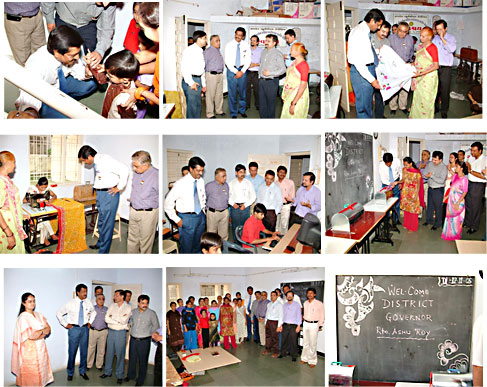 Visit to Rotary Midtown Medical Centre and Rag picker children centre was the next programme. Rotary Midtown Medical Centre is run by Pujit Rupani Memorial trust. Mr Rupani, the managing trusty, informed DG about the activities of the centre. DG visited the centre and handed over some laboratory equipments worth Rs 10,000 (Ten Thousand) and Toys for the mobile toy library worth Rs 5,000 (Five thousand). He also visited mobile toy library there.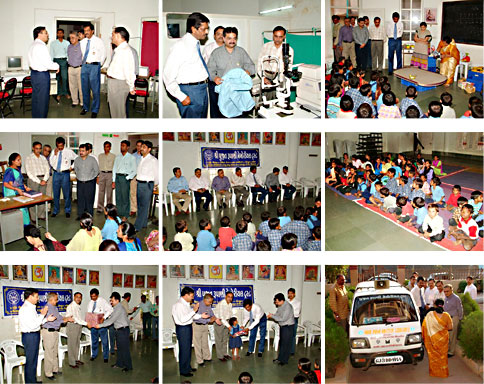 DG then visited the project of second century, the Rotary Midtown Library. PP Deepak Agrawal, one of the project co-ordinator, informed the plan of the upcoming library. The new concept of the library along with research zone and free computer access and internet connectivity is the novel thing and such library is not there in the entire region. DG Ashis and AG Bhuvanesh liked the concept.

Rotary Midtown Diabetic Clinic was the next place of visit. The project details were explained. DG Ashis and AG Bhuvanesh were impressed by the project.

Than DG Ashis and AG Bhuvanesh visited our Rotary Midtown Dental Clinic, Rotary Midtown Ear Clinic and Rotary Midtown Medicine Bank.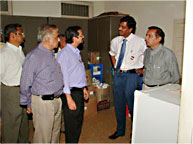 d. DG Ashis gave an inspiring address in our regular club meeting. Many district dignitaries including our Assistant Governor Bhuvnesh Malik graced the occasion.

DG also felicitated the PHFs of the last year and handed over the PHF pins to them.
A perfect gentleman, great motivator and an inspiring leader made this day a memorable one for all of us.

e. The next meeting was TRF seminar. Please see details in International service section.

f. A well known comedian, mimicry artist and a singer, Shri Kirit Vyas, was the speaker in our speaker meeting on 25th November. He gave his music and songs studded speech and made us laugh till everybody got stomach-ache. He sang old to new ones, remembered K. L. Sahgal to Kishor Kumar and even Kumar Shanu. More than 95% Midtowners attended and enjoyed the fellowship and the speaker.

We launched the brochure of Business Relation Seminar, a seminar on Capital Market, which will be held n 11th December. The theme is… "Indian Capital Market - Boon or Bane?"




VOCATIONAL SERVICE

3) Reporting of Permanent Vocational Training projects.

ü RC Rajkot Midtown is running Permanent Women's Vocational Training Centre" Swashray". Various training classes are conducted for Sewing, Beautician, Dandia Raas, Embroidery and Computer class where in poor and needy women of nearby areas have an opportunity to learn the proper and scientific method of the courses offered by the qualified and experienced trainers.

ü Rangoli Competition was organised at Swashray amongst women trainee of Swashray on 18th November. 16 ladies participated in this competition. 8 Anns visited and 3 Anns judged the Rangoli.

ü Our Micro-Credit programme started with giving 3 sewing machines to Swashray trainees on 12th November at the hands of DG Ashis.