The Group Study Exchange Program of The Rotary Foundation of Rotary International is a unique cultural and vocational exchange opportunity for young business and professional men and women between the ages of 25 and 40 in the initial years of their professional life.

The program provides travel grants for teams of young participants to exchange visits between paired areas in different countries. For four to six weeks, team members study the host country's institutions and ways of life, observe their own vocations as practiced abroad, develop personal and professional relationships, and exchange ideas.

GSE Outbound team to R.I.D1180 England & Wales, UK May 18th June to June 22nd, 2005 from Gujarat, India R.I.D3060

"The GSE has changed my outlook in life, now I see world on a different horizon and every event with a global perspective, GSE taught me how to be a global citizen…"

- Deepak Agrawal GSE Team Leader 2004-05

I would like to share some of my GSE Experiences after leading GSE Team to Rotary International District 1180 at UK. Please give in your humble suggestions.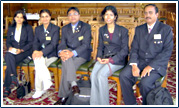 GSE Team 2004-2005